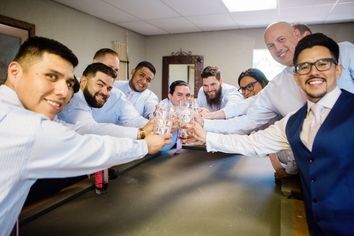 Our groom's quarters
is a great space for your groom's party to get ready, hang out, play some pool to relax before the big day. It is located adjacent to our office on the property. Decorated with rustic décor and antiques, it provides a small half bath, dorm-sized refrigerator, pool table, and couch.
There can be a lot to do
getting ready for the wedding, but when all of that is taken care of, the ladies will retreat to the Bridal Suite, and the guys can come back to this great space to clean up and relax for a little while before the wedding festivities begin!